Comments Off

on 7 Feng Shui Bedroom Rules For Optimal Energy Flow
Do you find yourself having trouble falling asleep at night? And despite your best efforts, do you continue to experience frequent nightmares or wake up feeling unrested? If you're feeling lost and unsure of what to do, it's possible that poor energy flow in your bedroom or bed could be the culprit.
Your bedroom's atmosphere plays a significant role in ensuring a peaceful and rejuvenating slumber. However, it's not only the colors, materials, or gadgets that matter. It's an amalgamation of several factors that contribute to creating a tranquil and balanced environment. Often, an imbalance in energy flow, specifically the lack of Chi energy, as per feng shui principles, can disrupt harmony and lead to a subpar sleeping experience.
Clear The Clutter
According to feng shui, clutter can be a significant roadblock to the free flow of energy. Despite its seemingly insignificant nature, it can have a significant impact on your environment. Have you ever considered the possibility that your bedroom may not be as clean as you think it is? Examine what's behind or under your bed, as well as the contents of your closet, to maintain a harmonious living space.
Begin your journey towards a more positive and energized life by taking a small step. Start by decluttering your bedroom and removing any items that hold negative emotions. This can include old bills, documents, or even ashes of loved ones. By eliminating these items, you allow fresh, positive energy to flow into your space.
Choose Soothing Colors
I cannot stress enough how crucial colors are in setting the tone of a room. If you're looking to create a peaceful and tranquil atmosphere in your bedroom, I highly recommend opting for calming shades like gentle greens, soft blues, or muted earth tones. These colors support relaxation, harmony, and a sense of serenity, which is exactly what you need for a restful night's sleep. Don't underestimate the power of color – it can make all the difference in creating a space that feels like a peaceful oasis.
Don't fancy a pop of color on your walls? No worries! You can still infuse life into your bedroom by picking bed linen, furniture, or décor in these vibrant shades.
Position The Bed Correctly
In feng shui, the location of your bed carries significant weight. For optimal results, it's recommended that you position your bed at a diagonal angle across from the entryway. It is highly recommended to refrain from positioning your bed in front of the door, as it can have a negative impact on the circulation of energy, resulting in a feeling of vulnerability and weakness.
When it comes to setting up your bed, the space around it is crucial. It's important to have enough room on either side of the bed for a well-proportioned arrangement. Don't worry if you're working with limited space – just a couple of centimeters from the wall will suffice. By allowing your walls to "breathe," you'll promote good energy flow throughout the room.
For optimal sleeping position, it's recommended that your head faces towards the south when you're lying in bed. If you're unsure of which direction south is, don't worry! Most smartphones come equipped with a compass feature that can guide you in the right direction.
Enhance Balance With Symmetry
Symmetry is a key principle in feng shui, as it represents balance and harmony. Aim to create symmetry in your bedroom by using matching nightstands, lamps, or artwork on either side of the bed. This symmetrical arrangement fosters a sense of stability and promotes a restful ambiance.
Incorporate a sense of harmony into your bedroom decor, including your bedlinen, bed cover, and pillows. Opt for a cohesive blend of colors, sizes, and shapes to elevate the overall aesthetic appeal of your sleeping space.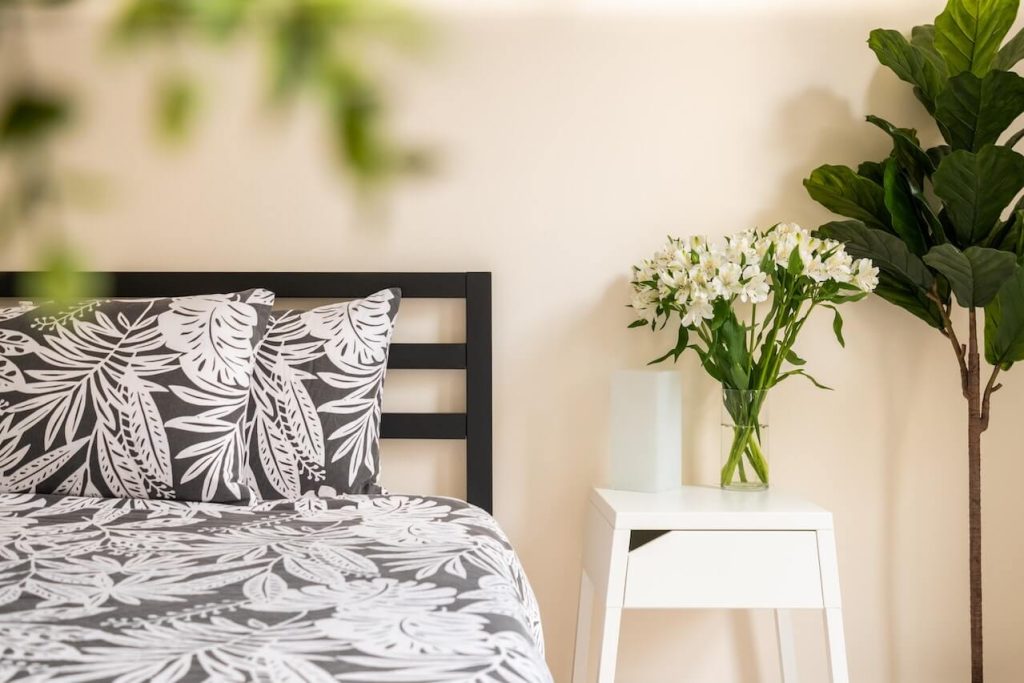 Incorporate Natural Elements
Bringing nature indoors is an excellent way to infuse positive energy into your bedroom. Add plants, fresh flowers, or a small indoor fountain to introduce the elements of nature. These natural elements promote vitality, harmony, and a connection to the outdoors.
Don't forget that the plants must be well-maintained and that they do not obstruct the free flow of energy in the room. Ideally, you want to dust your plants once a week and give them the required amount of water to keep them healthy and thriving.
Minimize Electronics
Electronics emit electromagnetic fields (EMFs) that can disrupt the energy flow in your bedroom. To maintain a harmonious atmosphere, limit the use of electronics and keep them away from your bed. If possible, remove electronic devices altogether or ensure they are turned off during sleep hours.
If you must have electronics in the bedroom, consider using grounding techniques, such as placing them on grounded mats or using EMF protection devices.
Create A Peaceful Ambiance
Lighting and scents can significantly impact the energy in your bedroom. Opt for soft, dimmable lighting options, such as table lamps or wall sconces, to create a warm and relaxing atmosphere. Use natural candles or essential oils with soothing scents like lavender, chamomile, or ylang-ylang to promote relaxation and restful sleep.
Are you struggling with nightmares or insomnia? Consider seeking advice from a specialist on which herb or scent they would suggest. It's important to be cautious when selecting scents as they can have unintended consequences, even with good intentions.
Love + Light